My Lip Stuff Natural Lip Balms - FUN LABELS
Express yourself with lip balm!
MOOD LIP BALMS
DAYS OF THE WEEK LIP BALMS
CALENDAR LIP BALMS
INITIAL BALMS
BOOZE BALMS
FORTUNE COOKIE LIP BALM
CALL ME LIP BALMS
LOVEABALMS
FUNDIES LIP BALMS
THEME PARTY LIP BALMS
MAGIC 8 BALMS
HOROSCOPE LIP BALMS
VOODOO LIP BALMS
This is just a very small sample of the labels we have available (only 1 shown from each set)-
please visit the online store for more info, pics, & to shop--->
Online Store!
~~~~~~~~~~~~~~~~~~
MOOD BALMS
Express yourself with these awesome balms with cute new labels showing expressions.
available in these emotion/flavor combos:
*Smitten (Strawberries & Cream)
*Heartbroken (Cinnamon & Jalapeno)(little sting for the heartache)
*Slutty (Wine Cooler)
*Angelic (Cherry)
*Studly (Screwdriver)
*Geeky (Grape)
*Drunk (Tequila)
*Hungover (Peppermint Tea)
*Lucky (Mixed Mystery)
*Kissable (Brown Sugar & Cinnamon)
*Crazy (Tomato)
*Sick (Ginger)
*Pissed (Jalapeno)
*Fiesty (Cinnamon)
*Fun (Tropical)
*Childish (Cotton Candy)
*Grumpy (Peanut Butter Cup)
*Chilly (Hot Cocoa)
*Sweaty (Iced Tea & Lemonade)
*Sexy (Cosmopolitan)
*PMS-y (Chocolate)
*Stressed (Rose)
*Bored (Spearmint)
*Hungry (Peppermint)
*Thirsty (Cola)
*Bitchy (Ginger Peach)
*Jealous (Green Apple)
*Flirty (Strawberry Banana)
*Sad (Cookies & Cream)
*Happy (Orange Creamsicle)
*Awake (Lavender)
*Tired (Coffee)
*Giddy (Grape Kiwi)
*Sneaky (Buttercream)
*Sweet (Brown Sugar)
*Naughty (Strawberries & Chocolate)
*Nice (Cherry Vanilla)
*Ugly (Caramel Apple)
*Lonely (Blueberry)
*Blah (Plain Shmain)
*Horny (Sex on the Beach)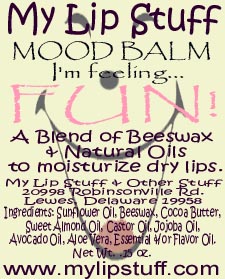 ~~~~~~~~~~~~~~~~~~~~~~~~~~
DAYS OF THE WEEK BALMS.
Choose your own flavors or we can choose for you. One balm for each day- with cool new labels!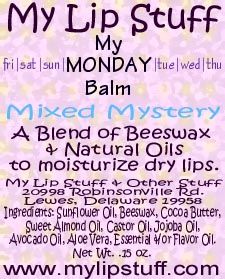 ~~~~~~~~~~~~~~~~~~~~~~~~~~
CALENDAR BALMS.
Never guess what the date is again! Get 12 month balms with that months calendar printed on each label! One balm for each month- with cool new labels!
Flavors included:
January (snow cream flavor)
February (my valentine flavor)
March (shamrock shake flavor)
April (april showers flavor)
May (may flowers flavor)
June (rainbow sherbet flavor)
July (raspberry lemonade flavor)
August (pink cake flavor)
September (oatmeal chocolate chip cookies flavor)
October (pumpin spice latte flavor)
November (cinnamon roll flavor)
December (candy cane flavor)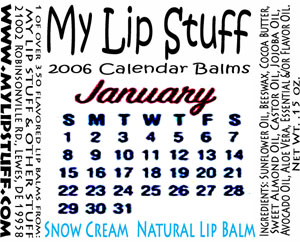 ~~~~~~~~~~~~~~~~~~~~~~~~~~
INITIAL BALMS.
Want a personalized touch with your lip balm?? Get a My Lip Stuff Initial balm with your initial on it! Makes a great personalized gift for everyone! Each Initial comes with a different flavor (a top selling flavor of that letter).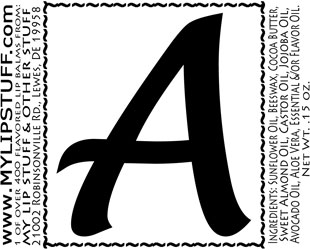 ~~~~~~~~~~~~~~~~~~~~~~~~~~
BOOZE BALMS
with cool labels and fun flavors to mimic popular drinks!
Available in these flavors:
*Appletini
*Banana Daquiri
*Bloody Mary
*Blue Hawaiian
*Bourbon
*Boxed Wine
*Brandy
*Buttery Nipple
*Champagne
*Cosmopolitan
*Creme de Menthe
*Fuzzy Navel
*Grand Marnier
*Grasshopper
*Hot Buttered Rum
*Hot Toddy
*Kahlua & Cream
*Kamikaze
*Lava Flow
*Long Island Iced Tea
*Mai Tai
*Malibu
*Margarita
*Midori
*Mimosa
*Mojito
*Monkeys Lunch
*Painkiller
*Pina Colada
*Rum
*Rum & Cola
*Sangria
*Screwdriver
*Seabreeze
*Sex on the Beach
*Strawberry Daquiri
*Strawberries & Champagne
*Tequila
*Tequila Sunrise
*Tropical Martini
*White Russian
*Wine Cooler
*Zombie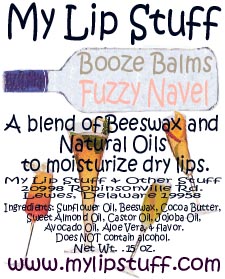 ~~~~~~~~~~~~~~~~~~~~~~~~~~
FORTUNE COOKIE BALM.
Each tube of "Fortune Cookie" (a new flavor of My Lip Stuff) comes with a different fortune! The "fortune" is hidden behind the label and can easily be slid out to read. What's cooler than that??!!
~~~~~~~~~~~~~~~~~~~~~~~~~~
CALL ME BALM.
Ever see someone that you want to give your phone number to but don't want to look like an idiot by writing it on paper or handing them your business card? Here's the coolest answer around:
CALL ME BALMS!
Each balm comes in a different characteristic flavor & has a spot on the hot new label for you to fill in your name and number! Pick a "characteristic" that best describes you (or pick a few!) Write in your info and hand it to the next hottie that catches your eye. There's no way you won't get the call with this cool & original idea.
For ladies to toss out to the guys:
Girlfriend Material (Coconut Cream Pie)
Good Girl (Cherry Vanilla)
Bad Girl (Cinnamon Roll)
Bondage Babe (ButterCream)
Sex Kitten (Strawberry Marshmallow)
Golddigger (Banana Cream Pie)
For guys to toss out to the ladies:
Bad Boy (Cookies & Cream)
Good Guy (Raspberry Lemonade)
Boyfriend Material (Cherry Lime)
Momma's Boy (Apple Pie A La Mode)
Boy Toy (Shamrock Shake)
Pretty Boy (Vanilla Ice Cream)
For everyone:
Commitment Phobe (Baked Alaska)
1 Night Stand (Strawberries & Chocolate)
Rebound (Chocolate Icing)
Freak (Pink Cake)
Friends with Benefits (Gummy Bear)
Looking for Love (After Dinner Mint)
Good Times (Caramelized Pear)
~~~~~~~~~~~~~~~~~~~~~~~~~~
LOVEABALMS!!
These lip balms are so cute! The same formula as our regular My Lip Stuff with cute I Love labels! We've all seen the "I love NY" tshirts that inspired these lip balms. We thought it was time to say it with lip balm instead of tshirts, so My Lip Stuff "Loveabalms" were born! Personalizations are FREE with these balms. The sky's the limit! You can have whatever you love printed on these balms.
The label will read:
I LOVE (love is represented by a heart on our labels)
______
you fill in the blank!
or
______
LOVES (love is represented by a heart on our labels)
______
you fill in the blanks!
Other ideas:
GLENDA LOVES RICHARD
BREA LOVES YOU
MICHAEL LOVES PARIS
LAURIE LOVES PANCAKES
JEANNE LOVES CATS
etc....
I LOVE YOU
I LOVE PARIS
I LOVE PANCAKES
I LOVE MY CAT
etc....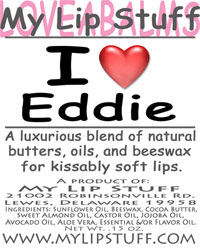 ~~~~~~~~~~~~~~~~~~~~~~~~~~
F'Undies LIP BALM.
- underwear lip balms!!
These lip balms are so cute! We had a customer request for a custom flavor balm & label called a "Pink Panty". They turned out so cute we couldn't resist making a whole pack of them!
Great for gifts, bachelor/bachelorette parties, & more!!
There are 3 different 6 packs to choose from.
Panty Raid (all womens undies) including
Pink Panties (new flavor! pomegrante, vanilla vodka, & a twist of lime)
Granny Panties (Oatmeal flavor)
Thongs (Buttery Nipple flavor)
Boy Shorts (Cherry Pie flavor)
Tangas (Peaches & Cream flavor)
Garters (Apple Pie A La Mode flavor)
Underwear Drawer (all mens undies) including
Boxers (Coconut flavor)
Tightie Whities (Bavarian Cream flavor)
Boxer Briefs (Banana Cream flavor)
Loin Cloth (Coconut Cream flavor)
Jockstrap (Irish Cream flavor)
Commando (Banana flavor)
Or a mix of 3 mens and 3 womens undies in the Undies Galore Pack.
All have cute new fun labels & each one is different! .15 oz tubes only.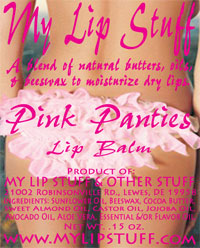 ~~~~~~~~~~~~~~~~~~~~~~~~~~
MAGIC 8 BALM.
Just like the old Magic 8 Ball we all used to have as kids (and some of us still have!) it's the MAGIC 8 BALM!!!! Each pack of "Magic 8 Balms" comes with 8 different My Lip Stuff balms with special labels in a black satin pouch. Just ask the "Magic 8 Balm" a question-
reach in the pouch and pull out a lip balm! The answer to your question will be printed on the label! What's cooler than that??!!
Flavors included in the pack:
Gummy Bear, Pink Cake, Cinnamon Roll, Coconut Cream, Raspberry Lemonade,
Apple Pie A La Mode, Strawberry Shortcake, & Upside Down Pineapple Cake
- all customer favorites and top sellers!!
Available in the 8 pack of Tubes only.
Please remember these balms are for fun and should not be taken seriously!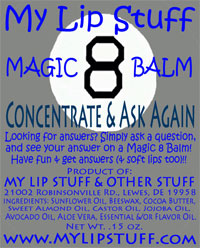 ~~~~~~~~~~~~~~~~~~~~~~~~~~
Theme Party Balms
with Fun Labels!
Great party favors for kids birthday parties, or any theme party! Birthday Party Theme Balms! These lip balms are so cool!
With each party pack you get 12 My Lip Stuff lip balms, including 3 different label designs, and 3 different flavors!
Themes to choose from:
For kids of all ages:
~Balloons
~Birthday
For kids:
~Butterflies
~Bugs
~Cars
~Cats
~Construction
~Dinosaurs
~Dogs
~Farm Animals
~Flowers
~Frogs
~Pirates
~Ponies
~Sports
~Trucks
~Underwater
~Wild Animals
The Kids Packs include 3 flavors: Bubblegum, Cotton Candy, & Gummy Bear.
The For Kids of all ages packs come with your choice of the above "kid flavors", or "adult flavors" which includes Cake, Vanilla Ice Cream, & Chocolate Ice Cream.
You can also add a "Party Pooper" balm to your animal packs! Get a "dinosaur poop", "bug poop", "pirate poop" - or poop for whatever theme you chose!
at the FOR KIDS section of the online store
~~~~~~~~~~~~~~~~~~~~~~~~~~
HOROSCOPE LIP BALM.
What's Your Sign?? Find out all the good stuff (& the bad stuff too) with My Lip Stuff Horoscope Lip Balms! Get your zodiac sign & popular sign characteristics with a cool 2 pack of My Lip Stuff! Each 2 pack comes with 1 "good stuff" balm and 1 "bad stuff" balm of the zodiac sign of your choice. Each balm lists many different characteristics or traits of people born under that sign. A fun way to show off your sign!
Each 2 pack contains 1 vanilla balm and 1 chocolate balm in .15 oz tubes only.
Get your 2 pack horoscope balms at the store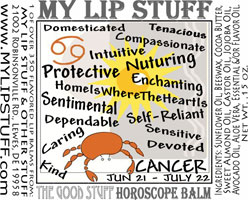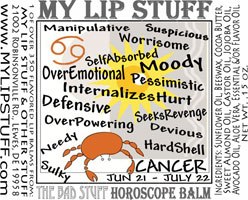 ~~~~~~~~~~~~~~~~~~~~~~~~~~
VOODOO LIP BALM.
Voodoo is an ancient practice which uses "magic" to send positive or negative energy to help or harm oneself or others. The My Lip Stuff Voodoo balm can be used as the tool to disperse this energy to the person you choose! Need some good luck?? Use the positive energy balm! Suffering from heartache?? Use the negative energy balm & get some revenge! Flavors included: Negative Energy balm=CLOVE Positive Energy balm=ORANGE The aromatic combination of the Orange & Clove are thought to attract positive energy while repelling negative energy. This pack comes with these flavors only, No flavor substitutions. Comes in a little pack with directions for use and poking "stick". Please remember these balms are for fun and should not be taken seriously!
Get your 2 pack voodoo balms at the store!